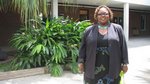 Veronica Downs-Dorsey, Director
The McDonogh 35 Vocal Department is a highly celebrated jewel of the McDonogh 35 heritage. Known throughout the world for their anointed vocals, there aren't many that can bless the people the way this choir can.
The department is headed by Veronica Downs-Dorsey.
Take a look at the pictures and video below!