Congratulations to the 2013-14 Miss and Mister McDonogh 35!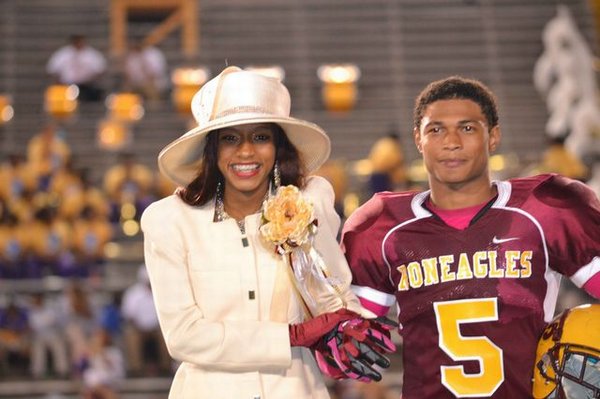 Miss McDonogh 35, Ta'Tiyana Novoselsky, is the gorgeous daughter of Ms. Quiana Novoselsky and Mr. Carl Cheffen. A very outgoing and ambitious person, Ta'Tiyana, a former McDonogh 35 Majorette Captain serves currently as a Cheerleader, Varsity Softball Team Member, Lady Ronealge Flag Team Member and Student Council Representative. Ta'Tiyana in addition to her many social pleasures and academic responsibilities enjoys staying abreast of her studies, reading, shopping, providing community service, and spending time with family and friends. Ta'Tiyana is revered as a positive, talented, and humble young lady who lives by Oprah Winfrey's challenge to, "think like a queen." After graduating high school, Ta'Tiyana plans to attend Jackson State University to pursue a degree in Criminal Justice where she hopes to one day work in Forensic Science. Ta'Tiyana is a faithful member of Pentecost Baptist Church under the leadership of Pastor Lionel Davis.
Mr. McDonogh 35, Bryan Blunt is the handsome and debonair son of Ms. Melissa Blunt. Bryan is a member of Mr. Mack's Senior Homeroom. A very outgoing and amiable young man, he enjoys interacting with his peers and meeting new friends. A proud Wide Receiver on the McDonogh 35 Varsity Football Team, he enjoys having an active role in the success of his team. Bryan believes that giving back to members of his community who may be less fortunate than he is important. In his spare time Bryan enjoys spending time with his family and friends, perfecting his athletic talent, watching sports, and eating fine cuisines from around the world. After graduating from high school Bryan plans to attend Xavier University to pursue a degree in Biology Pre Medicine, to one day become a noted physical therapist.